The Oink Blog
---
Oink in top 50 of UK Eateries list
Posted on 17.2.2016
We are delighted to be number 46 on Yelp's Top UK 100 Places to Eat in 2016 list.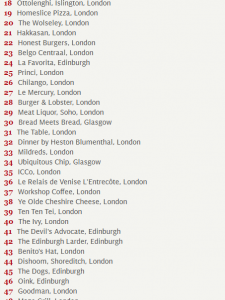 For the second year in a row we have made this list and we are absolutely delighted.  The whole team work really hard to deliver a great experience for visitors to Oink and we just love the great feedback and support we get from reviewers.
Unlike most restaurant rating lists, which are compiled by food experts, this list is created using the ratings ordinary people give to eateries on Yelp, an online guide to local businesses.
HOLY MOLY! Not Kosher but delicious! Amazing shredded pork
what a find
when they run out…..they run out
go early
always a line
its worth it
Reviewer from San Diego, CA
see other reviews and photos on Yelp
Oink Victoria Street on Yelp
Oink Canongate on Yelp